26 September 2022
Two AAS Members Named AGU Fellows
Susanna Kohler
American Astronomical Society (AAS)
The following is adapted from an American Geophysical Union (AGU) press release.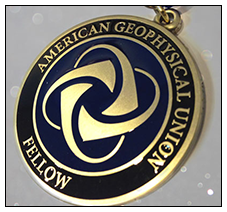 The
American Geophysical Union (AGU)
recently announced its 2022 class of Fellows. This honor is given to individual AGU members who have made exceptional scientific contributions and attained acknowledged eminence in the fields of Earth and space sciences.
Since the establishment of the AGU Fellows program in 1962, and in accordance with AGU bylaws, no more than 0.1 percent of the total membership of AGU is recognized annually.
Among the 54 individuals elected as 2022 Fellows are two AAS members:
William Bottke, Southwest Research Institute
Sarah Gibson, National Center for Atmospheric Research
AGU will formally acknowledge and celebrate its 54 new Fellows for their exceptional achievements and visionary leadership during a ceremony at AGU's Fall Meeting 2022.
AGU supports 125,000 enthusiasts to experts worldwide in Earth and space sciences. Through broad and inclusive partnerships, they advance discovery and solution science that accelerate knowledge and create solutions that are ethical, unbiased, and respectful of communities and their values.