23 December 2015
Get Ready for Congressional Visits Day 2016
Heather Bloemhard
Vanderbilt University
Every year the AAS brings volunteers to Washington, DC, to advocate for federal support of science with their members of Congress during Congressional Visits Day (CVD). This is part of a coordinated effort to gather scientists, engineers, researchers, educators, and technology executives in the nation's capital to raise visibility and support for science, engineering, and technology.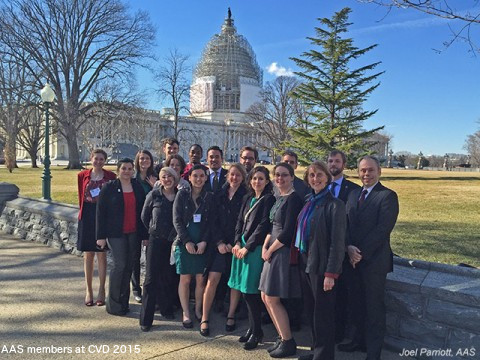 This year the AAS CVD will be held Tuesday-Wednesday, 15-16 March 2016, with both days requiring full-day commitments, about 8 am to 6 pm. Day 1 will be an all-day seminar on how to communicate effectively with policy makers, including some information on the issues that are currently impacting astronomy and science in general. Day 2 will be a day full of meetings on Capitol Hill with Congressional and White House staffers.
We aim to select at least 15 volunteers who balance the program by location, career stage, and experience. We especially encourage graduate students and early-career professionals to volunteer. Sign-ups are open now through 22 January 2016. Selected members will be notified early-February 2016.
To sign up, please use our Congressional Visits Day 2016 Sign-Up Form — you'll need to sign in to aas.org using your AAS username and password to submit the form.
A few things to keep in mind while you consider volunteering:
You must be an AAS member.
You must be eligible to vote in the United States.

Business attire is required.

The AAS will cover the majority of travel expenses for volunteers selected to participate, as our budget allows.
Check out these blog posts written by past CVD participants for an idea of what you can expect:
If you have any additional questions about volunteering, then please get in touch!