15 August 2014
FY 2015 Appropriations Still on Hold, FY 2016 in Formulation
We're now in week two of the Congress's five-week summer recess — a time when members of Congress head back to their districts and states to work with constituents and campaign for the upcoming election. This happens to be a great time for you to schedule a local visit with your representatives. Though it may now be too last minute to get a significant amount of time on your members' calendars during this trip home, they often hold open hours and public events where you can get a chance to interact with members and staff.
Back in June, the Senate put the appropriations process on hold as the two major political parties failed to find agreement on the process for approving amendments to the spending bills (among other things). There's a complicated dance surrounding the appropriations bills, which only got more complicated in July with the president's emergency request for funds to deal with the ongoing border crisis. While most pundits have given up hope that any appropriations will pass before the start of FY 2015 in October, the chair of the Senate Appropriations Committee, Sen. Barbara Mikulski (D-MD), recently stated that she intends to try to move some kind of spending package when the Senate comes back in the second week of September. But the Senate's majority leader, Sen. Harry Reid (D-NV), has said he plans to send senators back home and back to their campaigns by September 23rd, leaving only about two weeks of legislative time before the end of the fiscal year with much more than appropriations on the agenda.
With so little time and ongoing disputes about both policy and process, there is little expectation that appropriations will get done before the election. Instead, the Congress is likely to opt for a continuing resolution in September that sets spending on autopilot from FY 2014 through at least November or early December.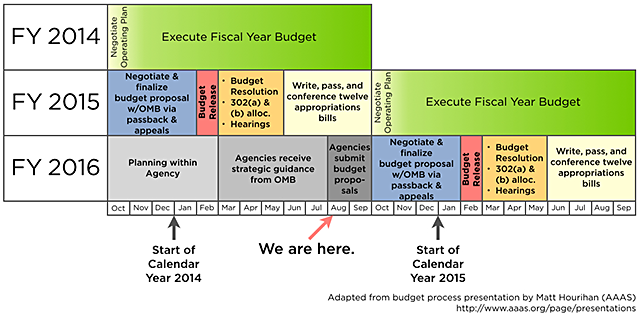 As members of Congress work in their states and districts while spending legislation sits idly on the Senate calendar, federal agencies continue their work crafting budget proposals for FY 2016, which begins 1 October 2015. Those proposals are due to the Office of Management and Budget (OMB) on 8 September 2014. After months of close scrutiny and revision, including the addition of new and ongoing presidential priorities and programs (e.g., the BRAIN Initiative), these proposals will be passed back to agencies for further consideration around Thanksgiving — the whole process rolling toward the FY 2016 President's Budget Request going to Congress next spring.
Keep an eye out for more updates during the recess on other pending issues. Though nothing we watch closely has been enacted into law, there have been developments over the last couple months on authorization legislation for NASA and the National Science Foundation and legislation regarding federal employee travel and conference participation. So stay tuned!