1 April 2014
Guest Post: My Experience with the Congressional Visits Day
Today's post is written by AAS member, Ramin Skibba, who participated in the 2014 AAS Congressional Visits Day Program. You can find his blog at http://raminskibba.net/ or follow him on Twitter @raminskibba.
— Joshua H. Shiode, John Bahcall Public Policy Fellow
* * *
Last week, I participated in the Congressional Visits Day (CVD) with the American Astronomical Society (AAS). I was just one member in a group of eighteen AAS members—a diverse group from around the country involved in many different subspecialties of astronomical research, as well as various teaching and outreach programs. Below, is a nice photo of us (I'm the guy wearing a hat) on the first ever snowy CVD! Our AAS delegation was part of a larger group of scientists, engineers, and business leaders representing the several dozen organizations participating in CVD, which is sponsored by the Science-Engineering-Technology Work Group.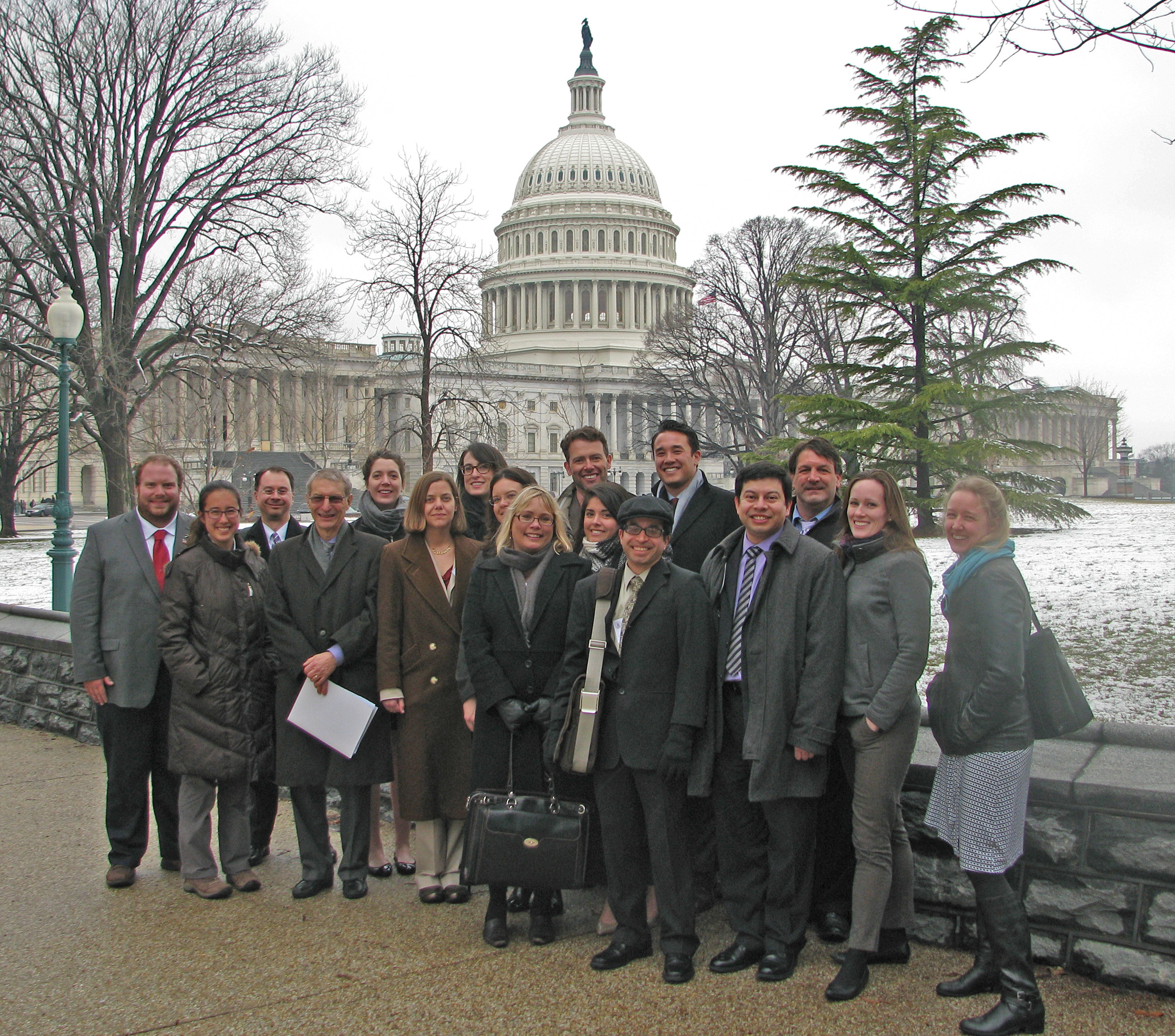 As scientists and members of the AAS, our visit to DC had a few primary goals. We argued first and foremost for the importance of investments in scientific research (as well as education and outreach) through funding for the National Science Foundation (NSF), NASA, and Department of Energy's (DOE's) Office of Science. If you're interested, you can see our one-page handout here. We also encouraged our Representatives in the House to sign two "Dear Colleague" letters that are currently passing through the House: the first letter is by Rep. G. K. Butterfield (D-NC) asking for a 3% increase to NSF's FY 2015 budget to $7.5 billion, and the second letter is by Rep. Rush Holt (D-NJ), Rep. Randy Hultgren (R-IL), and Rep. Bill Foster (D-IL) asking appropriators to "make strong and sustained funding for the DOE Office of Science one of your highest priorities in fiscal year 2015."
We also told our Congress members about our personal experiences. In my case, I have been funded by NASA grants in the past and am currently funded by a NSF grant. I am applying for additional research grants, but it's not easy when there is only enough funding available for a small fraction of submitted grant proposals. In the past, I have also benefited from projects and telescopes made possible by NASA and NSF funding, and I plan to get involved in upcoming new telescopes and missions such as the Large Synoptic Survey Telescope (LSST), the Wide-Field InfraRed Survey Telescope (WFIRST), and possibly the James Webb Space Telescope (JWST). Also, if the NSF grant I've submitted is successful (fingers crossed!), I will be able to participate more actively in public outreach programs especially in the San Diego area in addition to my research.
Not only did we explain the importance of stable funding for basic research, we also talked with our legislators about how astronomy is a "gateway science" that draws people in and inspires them to learn more about science, become more involved, and even potentially become scientists themselves. We talked about the importance of improving science and math literacy, which also improves US competitiveness with respect to other countries, and about how investment in science spurs innovation in industry and leads to new and sometimes unexpected developments in computing, robotics, optics, imaging, radar, you name it. Since "all politics is local," we also emphasized that these investments in scientific research are important for strong local, as well as national, economies. As we were visiting shortly after the introduction for the President's Budget Request for FY 2015, we also expressed our concern that the proposed budget reduces funding for NASA's education and outreach activities within the Science Mission Directorate by two-thirds, and would require mothballing the Stratospheric Observatory For Infrared Astronomy (SOFIA) outside of the well-established senior review process.
My Congress members are Senators Barbara Boxer and Dianne Feinstein, whose staff we met, and Representative Susan Davis (CA-53), with whom we met personally (along with a member of her staff). I was in a group with two other astronomers who were from Oklahoma and Illinois, and we met with their respective Congress members as well. Our larger group was split into teams of three to four for the days visits, and each met with the representatives and senators of all team members.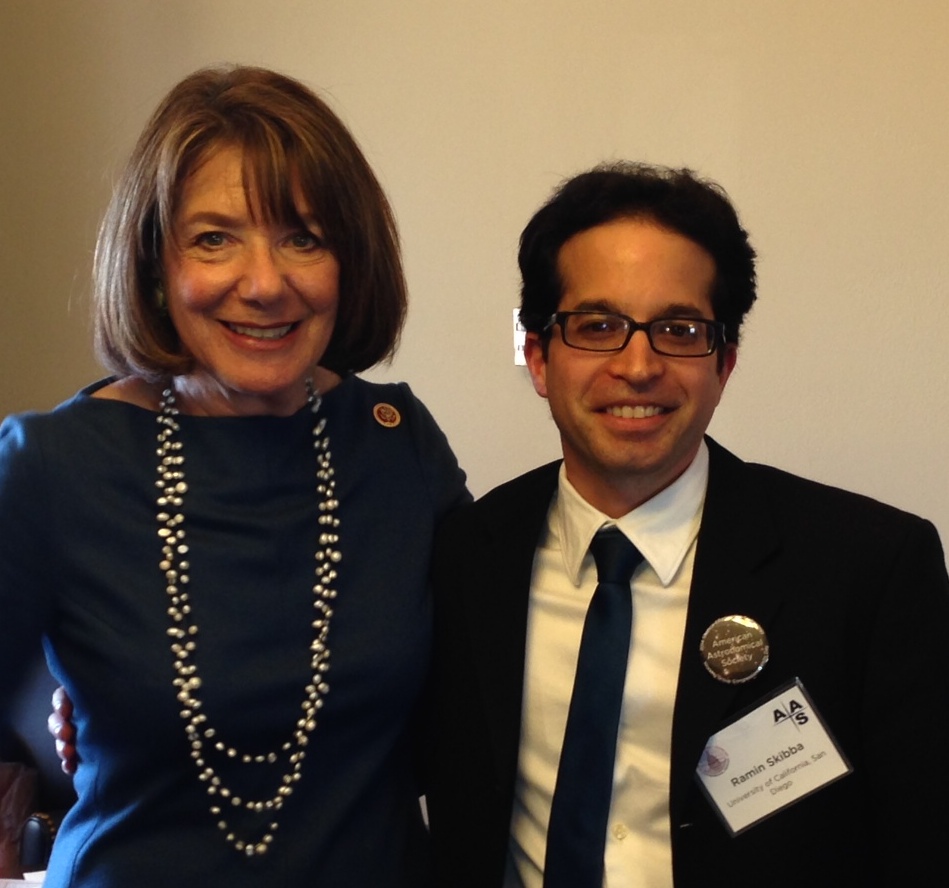 Senators and Representatives serve on different committees and subcommittees, each with a specific jurisdiction over parts of the federal government. Sen. Boxer is on the Science & Space Subcommittee of Senate's Commerce committee and is the chair of the Committee on Environment & Public Works. Sen. Feinstein is chair of the Senate Appropriations Committee's Subcommittee on Energy & Water, which has jurisdiction over the Department of Energy (among many other things). The appropriations committee is responsible for writing legislation that grants federal agencies the ability to spend money, that is, they appropriate the budgets for the agencies under their jurisdiction. Rep. Davis is a member of the House Education & Workforce Committee and has done a lot of work on educational reform, promoting youth mentoring, and civic education. 
I think that we received a largely positive responsive from our congressional representatives. My three Congress members were very supportive of our message. Some of the other members we met with, while generally positive about our message, left me with the impression that they approved of our "hard sciences" but didn't want as much funding going to social sciences, climate science, and other particular fields. It seems to me that we must get ourselves out of this highly constrained budget environment, in which discretionary programs like those funding the sciences are capped each year; we need to either find additional sources of revenue (e.g., reducing tax breaks) or make other changes to current law.