21 August 2014
Organizing a Local Visit with My House Representative
This guest post comes from Sara Barber, currently in her final year of graduate school at the University of Oklahoma, where she studies ancient planetary systems hosted by white dwarfs. Sara was one of five graduate-student participants from our 2014 Congressional Visits Day.
— Joshua H. Shiode, John Bahcall Public Policy Fellow
---
I was fortunate enough to participate in this year's American Astronomical Society Congressional Visits Day (AAS CVD), an event that brings scientists from around the country to Capitol Hill to garner support for the sciences. My experience with the 2014 AAS CVD was well under way weeks prior to my trip to Washington, DC. We were given guidance on how to get in touch with our senators and district representatives to request meetings. We participated in interactive online pre-briefings where we learned about the basics of the federal budget-making process and the current state and future outlook of science funding. We were also taught key skills for communicating with an audience that is very intelligent but non-expert. Once in Washington, we participated in a workshop where we could craft our message and develop a narrative. I learned that telling a great story has a bigger impact than citing a mountain of statistics, and that enduring relationships are more productive than one-time visits.
The big day that we had been training for — visiting our members of Congress and their staffs — exposed me not only to the chaotic atmosphere of Capitol Hill, but also to the genuine and generous nature of the women and men who work themselves to the bone in the offices of the Hart, Longworth, Russell, and Rayburn House and Senate office buildings. My district's representative, Tom Cole, was fortunately available to meet with my group in person. Once we had all been served refreshments and were seated, we took turns briefly explaining our research endeavors. I was struck by his level of sincere engagement. He listened to what each of us came to say and then pivoted the meeting to something more like a gathering between friends. The meeting was over before I knew it, but on the way home I decided that I wanted to do something like this again.
After getting myself reoriented in my research and outreach back home in Oklahoma's 4th district, I got to work. I planned to gather a group of enthusiastic graduate students from my physics department for a meeting in Representative Cole's district office that would mimic the meeting I had with him in DC. I knew he would be in town over the August recess, so I started by contacting the organizer of my AAS CVD visit, Josh Shiode, the AAS John Bahcall Public Policy Fellow. He suggested that the first thing I should do is contact my university's government or federal relations office to let them know I would be pursuing the meeting. Josh suggested that we discuss whether or not the office would feel comfortable with us representing the university by, for example, having the representative or his staff visit campus, versus me and my group just pursuing a meeting as constituents. Our government relations director, in fact, promptly gave his blessing that we represent the university and even copied the email to Representative Cole's district director.
The pace of the planning for this event picked up drastically after this email. The district director suggested a date and time, and I quickly checked with the chair of my department before accepting his offer. My department chair, his assistant, and I were close partners for the remainder of the planning process. What began as a meeting I envisioned with a few graduate students next gained a tour of our department's condensed matter and atomic physics research labs. And at this point, the scale of the event had grown beyond what I thought I could manage. We decided on a three-event itinerary to begin with the meeting I envisioned (or something like it) between Representative Cole and a select group of our graduate students. I still wanted most for them to have an opportunity to have that experience I had in DC. After this meeting, we would take Representative Cole to the basement to tour two of the highly successful research labs in our department.
Once the itinerary was settled, our department chair set out to notify all the appropriate people at our university, and I set out to recruit a group of graduate students. I chose a group of highly motivated and articulate people who I knew would benefit themselves, our department, and Representative Cole's impression of young scientists as a whole through their participation. We all gathered at a cafe near our campus to converge on a tone and message for our meeting. I told them a big lesson I learned from my DC trip, that the first goal is to do no harm. Rather than striking a tone of dissatisfaction with low funding levels, we decided to convey the excitement of discovery that draws us to our labs and computers each day.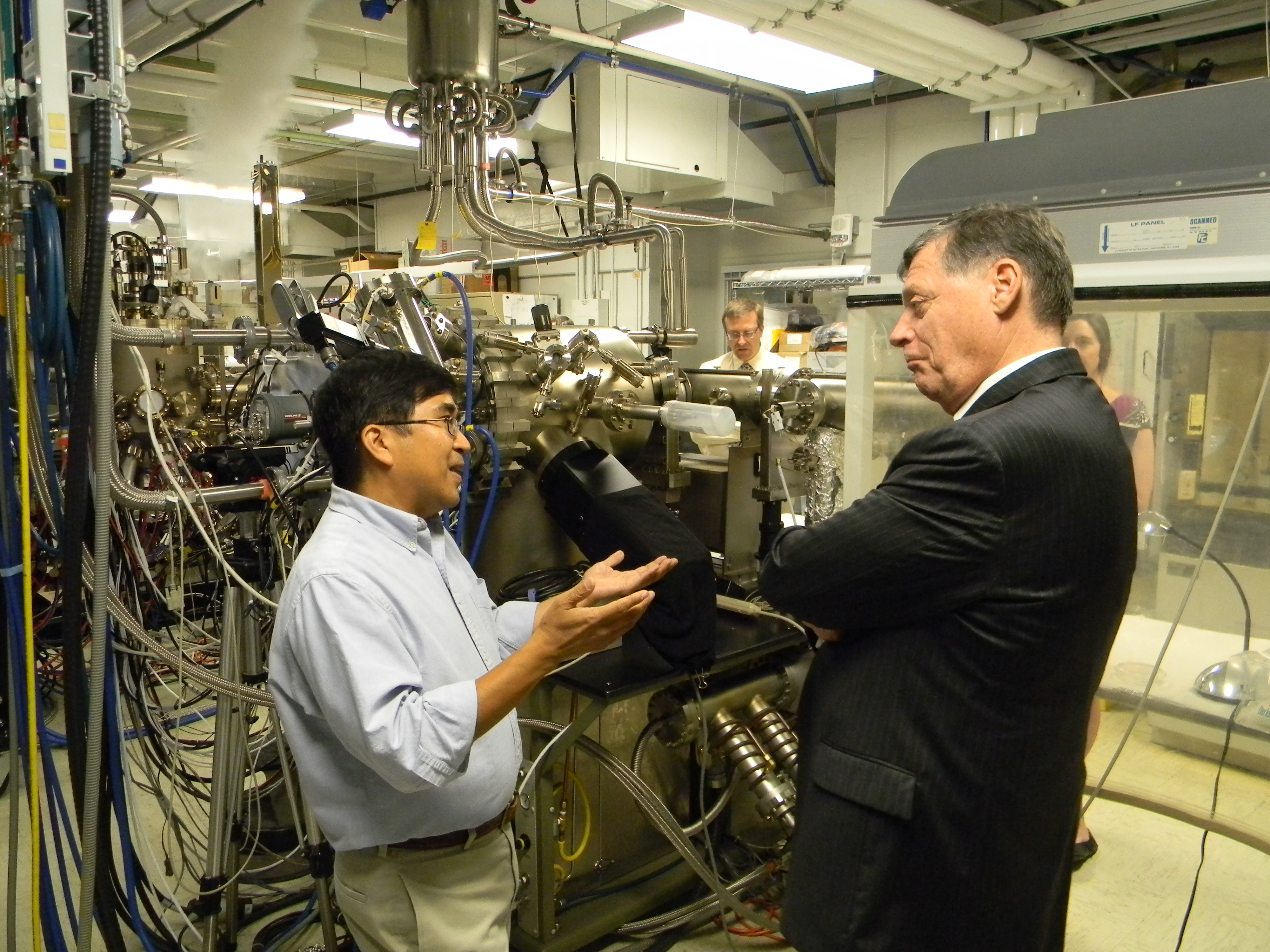 Looking back, I feel confident that Representative Cole enjoyed his visit. He asked insightful questions throughout the hour he spent with us. And I know that he gained something valuable to take back with him to DC: he met scientists in his district and saw the work they are doing. This is all I could ask for. The next time there is a vote in the House regarding federal support for the sciences (in addition to the many issues and causes already vying for his consideration) he now has our stories to draw from and our expertise to call on. I fully intend to stay in touch with Representative Cole and his staff, and I hope the same is true for my new recruits.